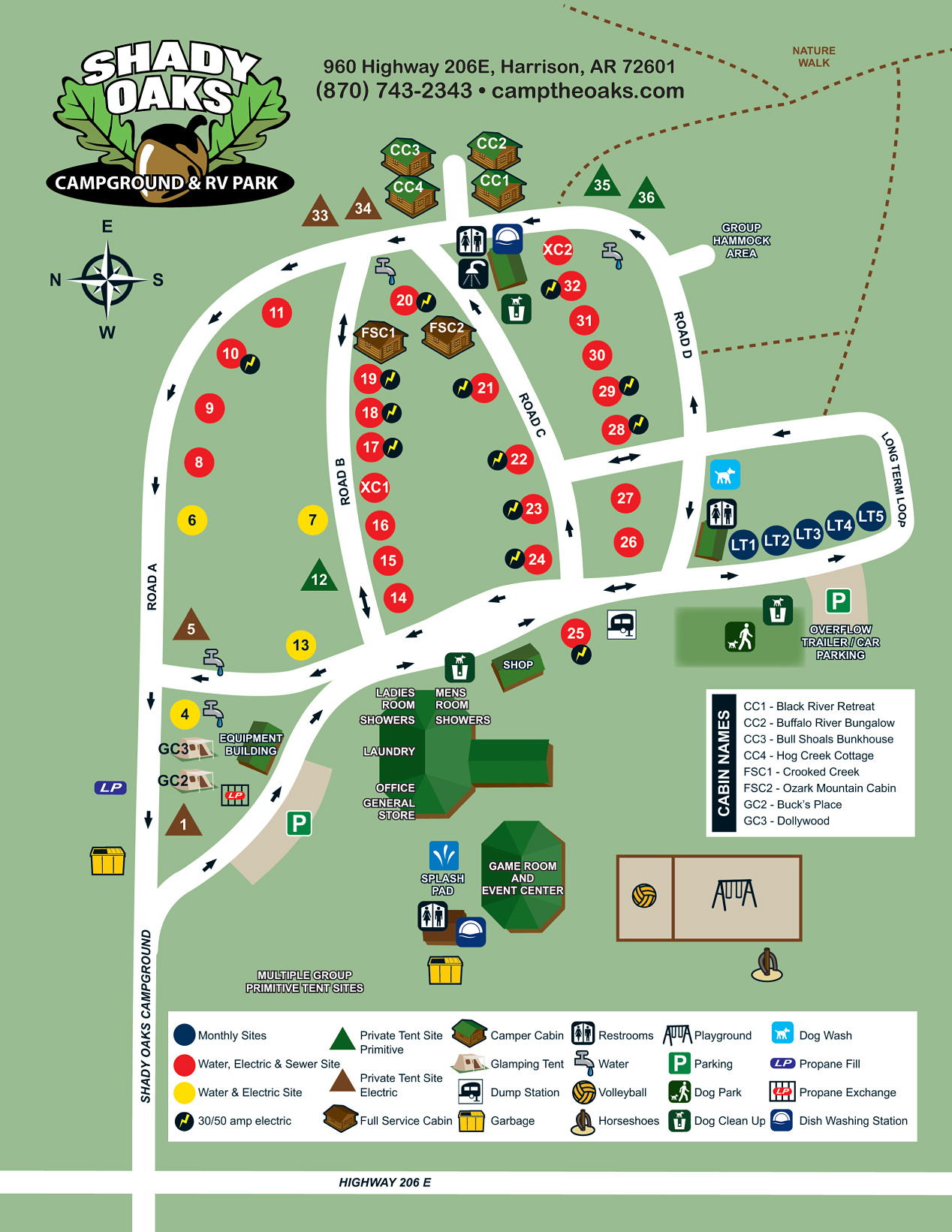 Speed limit is 10 miles per hour in the entire campground. Please keep everyone safe!
Every guest that stays at Shady Oaks MUST be registered at the office.
Quiet time is 10:00 PM to 8:00 AM Daily. Holiday weekends are 11:00 PM to 8:00 AM. Please be considerate of your neighbors. Please make sure to turn off all exterior lights during the quiet times.
Checkout Time 11:00 AM.
Campfires must be in the rings provided. NEVER leave a fire unattended and extinguish before turning in for the night or leaving campground.
Please do not put trash in our fire pits, this will result in a fee. We can provide a trash bag if need be.
Parents are responsible for children at all times. Please do not leave children unattended.
Pets are permitted at your site but must be registered at the time of arrival. When outside your camper, they must always be on a leash and under your control. Excessive barking is not permitted at any time. Our guests may use the dog park to allow their pet some off leash time. You must be present and responsible for your pet's behavior. Please be respectful of other pets, and any aggressive behavior is not be allowed. You must clean up after your pet immediately. We have several clean-up stations located throughout the park. Pets are not allowed in the playground, pavilion or splash pad. If you have a service animal, please notify the office upon check in.
ABSOLUTELY no cutting through other campsites, please.
No washing of RVs or any vehicles in campground.
Only ONE vehicle is permitted on each site.
We pride ourselves on the cleanliness of our restrooms and showers. Please be respectful of the next guest and let us know if there is an issue.
Please do not wash dishes in restrooms. We have three designated dishwashing stations, one in the laundry room and the others located outside the upper restroom/shower cabin and the restroom by the pavilion.
Children must be accompanied by an adult at the playground, splash pad and pavilion.
Trash is to be deposited in large trash containers located throughout the campground.
Vehicles must park in designated areas only, and all visitors must check in at office.
Smoking is prohibited in all buildings including the pavilion. Please be respectful, and fully distinguish and dispose of all cigarette debris in the receptacles provided.

When checking in to our cabins or glamping tents, our campers will receive this sheet of Cabin Rules:
Absolutely NO SMOKING. This wil result in a $250 cleaning fee.
All guests staying in a cabin must be registered at the office.
Only one car per cabin site.
Absolutely NO trash in the firepits, this will result in a $50 cleaning fee. We can provide additional trash bags if need be.
At no time may a pet be left unattended in a cabin unless they are kennel trained and left in a locked kennel. You must also notify the office of your departure and estimated return in case of emergency.
If you wish for your trash to be picked up: In the morning, put it at the end of your parking spot. Otherwise, trash cans are located at the front of our park.
Any damage to cabins will be charged to the card that is on file.
When checking out: Please put all dirty sheets and towels in a pile by the bathroom.
Check out is at 11:00 AM. Late check out will result in a fee.


Office/Store hours are posted on the door and vary by season. Pavilion/Game Area will follow the store hours.
Laundomat is open during posted office hours.
Please remove all personal items from restrooms. Any articles left in restroom will be disposed of when restroom is cleaned. Restrooms always open except for cleaning/maintenance.
Wood is for sale at office. There is NO cutting of trees or branches permitted on campground or neighboring property. ABSOLUTELY no out of state wood is allowed to be brought in.